Welcome!
We are very pleased you dropped by. This site is devoted to the extended Yarbrough and allied families. While there are around a hundred–fifty variant spellings of our name, we are all part of the Yarbrough family. The House of Yarborough traces its roots back to the mid–ninth century, AD. It's been in the New World since ca 1642, when Richard ("The Immigrant") Yarborough arrived and settled on Pamunkey Creek in the Virginia Colony.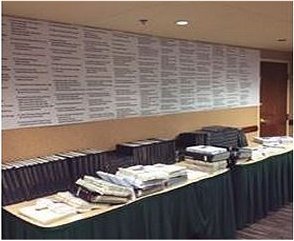 Since then, the family has spread across the southeastern and southwestern states and the far west, with others scattered across the rest of the country.

If you are a Yarbrough or a member of an allied family, we would be very pleased to have you as a member of the Association (YNGHA). Simply submit contact information and the name of the oldest ancestor in your line and pay your dues online or by mail.

The Yarbrough National Genealogical & Historical Association, Inc. is a not-for-profit organization, which came into being when a group of dedicated family members corrected the grave marker of the family's oldest known ancestor. We're quite proud of the heritage and history of our extended families, and the site has been configured to share as much as possible with our visitors.

We also encourage all Yarbroughs to be DNA tested so and share their test data with us. This will help us greatly in unraveling the interetwined branches of our shared family trees. Already, our Yarbrough DNA Project has helped pin–point what the kinship is among several of our early New World ancestors. We still have a number, however, whose relationships are, to say the least, murky.

We also solicit from everyone stories and clippings about family activities. These might appear to be trivial, but they can help someone else in his/her search for ancestral data. So, send us your story. Don't worry about the grammar and syntax; just send it to

Besides information about the extended Yarbrough and allied families, there are tips for family researchers, as well as information about DNA testing.

If you have or know of a local Yarbrough family reunion or if you are a member of a local historical society, the YNGHA would be pleased to provide a speaker for the occasion. Just contact the YNGHA. We will also gladly post announcements about family reunions, as well as suggested site links. Please send to the . No ads, please.
---
From the Conference...
This year's conference included an in-depth review of what the purpose and value of the YNGHA is in the Internet age. The charts used for this review are available to our members. There are several items of interest that arose from this and prior conversations on this subject. One result was that the Board of Directors has lowered YNGHA dues to $15.00/year, beginning in December, 2017 (that being the month in which any received dues are automatically credited to the following calendar year).

Next, there will be an updating of our operating plans and projects, as well as some changes to the current by-laws. Also, several of our Board members will be stepping down, and new faces will appear. The YNGHA will also be conducting/participating in local and state events in collaboration with both Yarbrough families and genealogical/historical societies.

Old Richard Yarborough's gravesite marker in Old Blandford Cemetery in Petersburg, VA, has deteriorated badly. It either requires added protection form the elements or must be replaced (or both). This will become our number one project for the next several years and the focus of our Conference in 2022 at Petersburg. We will continue our focus on the Yarbrough DNA Project, publish the Yarbrough Family Quarterly, and edit and revise the Blandford records.

There will be attention given to the feasibilty of a group trek to our ancestral sites in Lincolnshire and Yorkshire. A number of our members have been there, and we all know it is well worth the visit. More about that will be published as details develop.

The mission of the YNGHA was strengthened by the addition of family pedigree authentication to its mission. This is increasingly necessary, owing to the plethora of false and incomplete records extant on the world-wide web. This adds emphasis on continuing to improve the quality of our records.