Welcome!
The Yarbrough National Genealogical & Historical Association (YNGHA) serves as an umbrella organziation for the extended Yarbrough and allied families. These families are primarily located in the United States and the British Isles. There are over a hundred–fifty variant spellings of our name; however we spell our surname, we are all Yarbroughs. The House of Yarborough, one of the oldest in Great Britain, traces its roots back to the mid–ninth century, AD. We've been in the New World since ca 1642, when Richard ("The Immigrant") Yarborough arrived and settled on the Mattaponi River in the Virginia Colony.
Since then, the family has spread across the southeastern and southwestern states and the far west, with others scattered across the rest of the country.

If you are a Yarbrough or a member of an allied family, we would be very pleased to have you as a member of the Association. Simply submit contact information and the name of the oldest ancestor in your line and pay your dues online or by mail.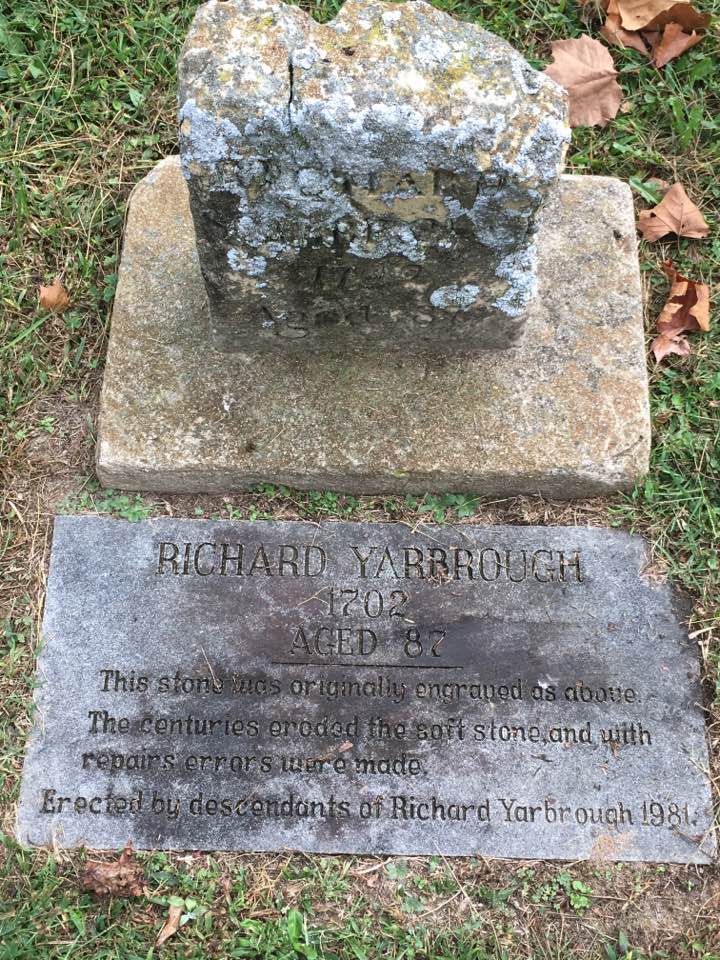 The YNGHA is a not-for-profit organization, created when a group of dedicated family members came together to correct the grave marker of the family's oldest known ancestor. We're proud of the heritage and history of our extended families, and the site has been configured to share as much as possible with other family members.

HELP!!!
Now that we have completed digitizing our amassed records, we need help in up–dating and correcting our digital database. In particular, if your ancestor is documented in these records, one benefit of helping us correct the records is that you would become the oracle for your family branch. Shortly, an added page will appear here; it will detail what and how this project will be accomplished.

There are two main tasks: updating the existing indices and eliminating the many duplicative pages that occur throughout the records. One does not have to be an expert genealogist to help, but a good knowledge of grammar and report style is very helpful.

So, if you are willing to share in this effort, just drop a line to the . Please indicate the volume and line you are interested in up–dating.

We also solicit family stories and clippings concerning family activities. These might appear to be trivial, but they can help someone else in his/her search for ancestral data. So, send us your story. Don't worry about the grammar and syntax; just send it to the

Besides information about the extended Yarbrough and allied families, we have tips for family researchers, as well as information about DNA testing.

If you have or know of a local Yarbrough family reunion or if you are a member of a local historical society, the YNGHA would be pleased to provide a speaker for the occasion. Just contact the . We will also gladly post announcements about family reunions, as well as suggested site links. Please send to the . No ads, please.
---
About DNA Tests...
There's been an increasing amount of ads and claims about the ability of DNA science to provide genetic information about those tested. There is no question but that there have been improvements in the ability of the science to provide medical data leading to preventive steps for one's health. The is also no question about the science being able to identify the existence of a genetic relationship for a male member of one's family.

At the same time, there are some questionable claims, such as those of the ethnic and/or geographical origin of an individual. Most of these are, on the face of the published ads, simply hype. The fact is, if one examines the movements of the peoples of the world over the millinea, there was a great deal of migration, voyaging, trading, and conquest, all of which naturally resulted in societal cross-breeding. At the same time, there are yet many families whose lines can be traced in an unbroken line back into antiquity. As an example, the Yarbroughs are known to have descended from Danes as far back as 854 AD. Our history prior to that time is simply unknown.

Then, there is the matter of the "true" relationship to the family. DNA evidence does not provide what kind of relationship a person has with his/her family. It only provides evidence of a relationship, and it can at best provide a clue as to when the relationship (genetically) might have occurred. While a blood relationship is important, equally important (or even more so) is being raised by one's family, imbued with that family' values, customs, and sharing in family life.

That does not mean that DNA testing isn't important. It is a valuable research tool to the family genealogist, as DNA evidence helps unravel relationships of the various family lines than exist in all families. In the final analysis, though, there has to be hard evidence — records, letters, memoirs and the like — that substantiates a family's generational relationships.