The 34th YNGHA Conference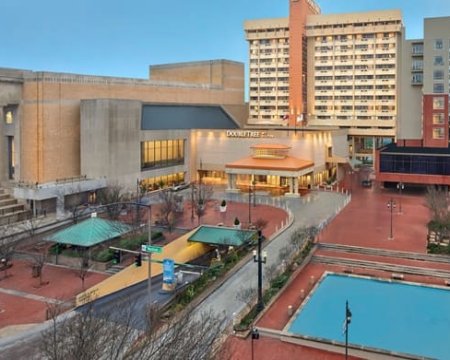 Oct. 4 – 5, 2019
Doubletree Inn
424 West Markham Street
Little Rock, AR 70221
Call 1-877-214-6725 for reservations.
Served by Little Rock Airport
Gift Shop
Wi-Fi
Complimentary Van to.from Airport
Complimentary Breakfast
Dry Cleaning & Laundry
Business Center
Fitness Center
Reservations: 1-844-242-3176 or online
---
Rooms are $109.00 plus 15% lodgings tax.
(Odd room numbers have river views; End rooms have more square footage).
There is a parking fee of $5.00/day (street parking) or $14.00/day (hotel parking).
Other city parking is $12.00/day.

Please cite "YNGHA Conference" when making reservations.

Click here for a listing of other lodgings near the Conference venue.
Banquet registrations are DUE 30 days (September 4th) before the Conference begins.

Banquet fee: $50.00/person

The banquet begins at 6:30pm, Saturday, October 5th.

Banquet fees may be paid online with PayPaltm,
credit/debit card or mailed (with a check or money order) to:


2019 YNGHA Conference
Donald Yarbrough, Treasurer
927 Gailynn Marie Drive
Mt. Juliet, TN 37122.

A tentative schedule for the conference is now available.
Contact the .
---