The 34th YNGHA Conference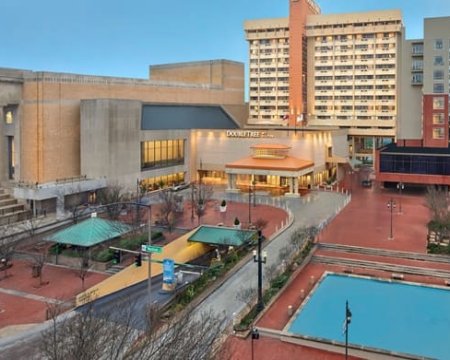 Oct. 4 – 5, 2019
Doubletree Inn
424 West Markham Street
Little Rock, AR 70221
Call 1-877-214-6725 for reservations.
Served by Little Rock Airport
Gift Shop
Wi-Fi
Complimentary Van to.from Airport
Complimentary Breakfast
Dry Cleaning & Laundry
Business Center
Fitness Center
Reservations: 1-844-242-3176 or online
---
Rooms are $109.00 plus 15% lodgings tax.
(Odd room numbers have river views; End rooms have more square footage).
There is a parking fee of $5.00/day (street parking) or $14.00/day (hotel parking).
Other city parking is $12.00/day.

Please cite "YNGHA Conference" when making reservations.

Click here for a listing of other lodgings near the Conference venue.
ALL registrations are DUE 30 days (September 4th) before the Conference begins.
ALL Banquet and reservations should be made by this time.
Registration fee: $5.00/person  Banquet fee: $50.00/person
The banquet begins at 6:30pm, Saturday, October 5th.
Registration and banquet fees may be paid online with PayPaltm, credit/debit card or
mailed in with this Registration Form (with a check or money order) to:

2019 YNGHA Conference
Donald Yarbrough, Treasurer
927 Gailynn Marie Drive
Mt. Juliet, TN 37122.

A tentative schedule for the conference will soon be available.
Contact the .
---